Field sites
Here we present case studies where measurement systems have been deployed in different types of construction projects.
Bridge measurement
Steel beam bridge measurement is divided into four categories: static loading measurement, dynamic loading measurement, frequency measurement and vibration measurement. In the static loading measurement, the status of the generation of static stress using a test car is seized, and in the dynamic loading measurement, that of dynamic stress during a test car or ordinary car passing is observed.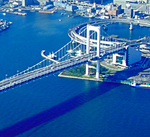 Caisson measurement
In constructing a caisson, settling of the entire caisson must be measured while at the same time monitoring the incline of the entire caisson, the balance of reaction force at the cutting shoe, water level, air pressure within the caisson, stress in all areas of the framework, etc. to manage construction.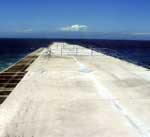 Measurement for earth retainment
Conditions to be monitored when constructing retaining walls include subsidence, movement and displacement of ground, groundwater conditions, lateral pressure on earth retaining walls, deformation and pressure conditions of earth retaining structures, and so forth. The collapse of retaining walls, effects of collapse on surrounding ground, heaving, boiling, and other dangerous phenomena must be detected and necessary actions must be taken as quickly as possible. Therefore, an online measurement system using computers and data loggers is used.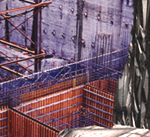 Measurement of test pavement
During pavement construction, driving tests, loading tests, and long-period deterioration tests are conducted using various types of sensors to check the degree of fatigue in relation to the load bearing capacity.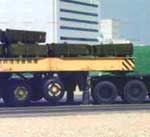 Small FWD measurement
TML small FWD system "FWD-Light®"is a testing device applicable for management and rigidity evaluation of soil structures such as a fill, cut, subbase course and subgrade. As it is easy-to-handle and portable and can measure subgrade reaction coefficient "K"and subgrade elastic modulus "E"in a short period of time, real time feedback to construction site is possible.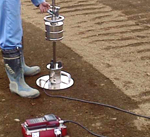 Embankment measurement
Important items in construction management of embankment construction on soft soil include construction control and phase management by way of measurement control, degree of safety of an embankment, limit load and limit deflection, settlement and uplift. It is necessary to grasp changes in settling/horizontal displacement of the ground accompanying embankment loading, as well as in soil pressure and pore pressure within the ground so as to enable action quickly, and online measurement is carried out using a computer and data loggers.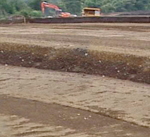 Suspended load management system for event halls
The load from the many different types of stage equipment and lighting (hanging fixtures) suspended from the overhead of an event hall is measured and monitored so that it is located within a predetermined load position (pattern). If a suspended load exceeds this range, it is relayed to the operator by an alert displayed on the computer and output at the connection (alert lamp, buzzer, etc.), to support facilities maintenance and management during an event.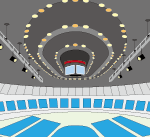 Tunnel measurement
The displacement of surrounding ground and tunnel support structures along with stress conditions are measured during tunnel excavation to ensure work safety and economic efficiency.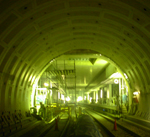 Underground cavity measurement
As the cross section of an underground opening becomes large, ground stability decreases and a large-scale support structure is required. The stability of an opening depends on surrounding ground. Since it is very difficult to clarify the level of ground stability by conducting surveys, data on the behavior of ground gathered during construction is analyzed and analysis results are reflected to design and construction. This is an observational construction control system that our company proposes to customers.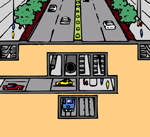 Dam measurement
During construction of an earth dam, pore water pressure in the dam body and its foundation ground is measured and data obtained is used to control earth (concrete) filling speeds. Deformation of the dam body and its foundation and the earth pressure on them are also measured during construction. After completion of a dam, the amount of infiltrating water in the dam body and foundation ground and the deformation of the dam body are measured to ensure safe dam operations. In addition, pore water pressure, osmotic pressure on foundation ground, the level of groundwater and so on are measured in order to grasp the state of water infiltration in both the dam body and its foundation ground.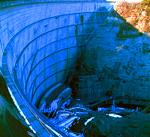 Measurement for construction management with concrete fill visualization
With the spread of an excellent self-filling and high fluid concrete, a method of concrete being placed in the form directly has been frequently used. When concrete is filled in a narrow space or complicated shaped form, it is very difficult to visually observe the filling status of concrete. Here, we suggest a concrete filling management system for observing the condition of concrete placement.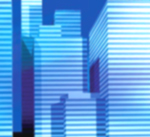 Landslide measurement
In making a landslide measurement plan, it is necessary to have a thorough knowledge of the three-dimensional profile and the ground-movement direction of landslide area. A measurement system that TML recommends is a centralized, automated measurement control system in which measuring instruments, data loggers, computers, and so on are connected in an online network. The addition of a communication function would turn this system into a wireless communications measurement system.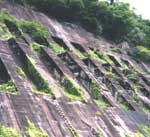 Ocean/revetment measurement
●Static measurement: Stress and strain on a pier under no-load conditions are measured.
●Dynamic measurement: Stress and strain on a pier are measured by running a vehicle, such as a forklift loaded with maximum weight assumed to be applied.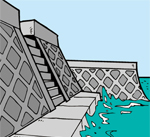 Measurement at wind power facilities
At wind power generation facilities, especial those which are situated on the water and are unlike land-based facilities, static and dynamic load that occurs as a result of rocking and vibration of the facility due to the effects of tidal currents are grasped, so that the structural integrity of supporting structures (placed/floating) and towers can be verified and fatigue changes can be grasped.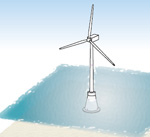 Measurement at nuclear power facilities
The structural integrity test (SIT) of a reactor containment vessel is carried out using various sensors.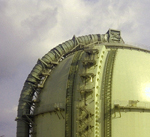 Large-roof & dome measurement
During construction of a dome and gymnasium, data on load and stress is collected using various sensors to verify the load bearing capacity (jacking-up and -down capacity).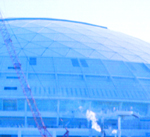 Seismic isolation & damping
A quake-damping structure uses various types of damping materials. For example, laminated rubber having low horizontal rigidity, slide bearings and so on are designed as part of the quake-damping structure in order to damp seismic force. A quake-absorbing structure uses a powerful shock-absorbing device to absorb seismic energy. Static and dynamic conditions of a structure are measured to check its quake-damping and quake-absorbing performance.