Portable Data Logger
Portable Data Logger TDS-150-06
Portable data logger TDS-150 can measure 100 channels of inputs at the maximum including network modules, when an optional Switching box/TML-NET driving board is installed in the data logger. It can operate without AC power supply by using commercially available D size alkaline batteries or an appropriate external battery. It offers large capacity data memory and sleep interval timer function for long term automatic measurement. It can store data and settings in a compact flash memory card. Setting of various conditions and reading of measurement data can be controlled from a PC via USB or RS-232C interface.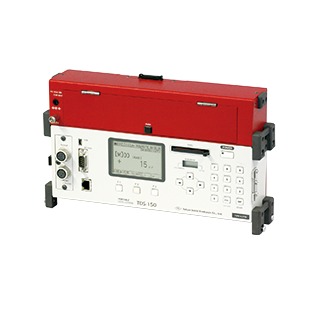 Features

Five channel units (FSW-10) can be connected at the maximum for 50 measurement channels
By installing a Switching box/TML-NET driving board (factory installed option), number of measurement channels is extended up to 100 including external switching boxes and TML-NET modules
Possible long-term automatic measurement using sleep interval timer
USB and RS-232C interface are standard specifications, and LAN is optional
Low power consumption.
Measurement of strain, DC voltage, and temperature using thermocouple and Pt RTD.
Large capacity data memory provided
1-gauge 4-wire method available
TEDS compatible
Network module connection specifications

Type
TDS-150 (with Switching box/TML-NET driving board)
Maximum number of connection
Conventional module
20 modules (150m or less)
Low comsumption module
100modules *1(1000m)
Maximum extension distance
Conventional module
1000m (10 modules or less)
Low comsumption module
1000m (100 modules) 

*1: When 2-channel modules (NSW-024C and NKB-MD) are used, the maximum number of channel is 100.
Note: When conventional module and low-consumption module are used together, the specifications follow those for conventional module.
System Block Diagram