Data Logger TS-960
T-ZACCS 9 High-speed ▪ High-accuracy ▪ High-functionality Data Logger TS-960
This is the top-of-the-line data logger in T-ZACCS series that features high-speed, high-accuracy and high-functionality. Measurement of various inputs including strain gauges, strain gauge type transducers, thermocouples, Pt-RTDs and dc voltage are possible. The T-ZACCS 9 TS-960 is an all-in-one data logger filled with everything required for measurement.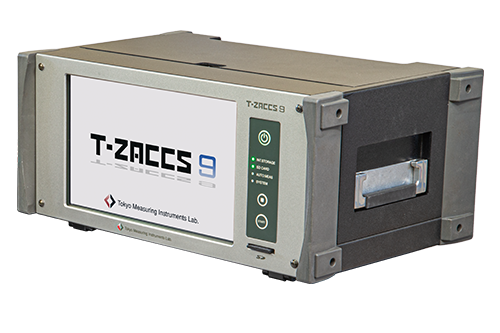 Features

Measurement of 1000 points at maximum (additionally 1000 channels of temperature-integrated strain gauge and 1000 channels of extended channel)
Highly accurate and stable measurement achieved by our unique next-generation A/D conversion method that enables high-speed measurement with high accuracy and stability
High-speed measurement of 0.1 seconds at the fastest
Data are securely held by the built-in robust 4GB data memory and UPS circuit
Stable interval measurement with clock accuracy of daily rate ±1 second
Batch setting of coefficient, unit, decimal point and sensor type by "Sensor ID"
High-resolution mode (0.1×10-6 strain) provided
Complete compensation method of strain (Comet) provided
Various check functions; Automatic checking using timer is also possible
Stress-free operation with reduced waiting time
9-inch IPS LCD widescreen display with wide viewing angle
Display language switchable between English and Japanese
Versatile monitoring function to display various values and charts using five setting tables and four frames
Display using an external monitor (recommended by TML) through the installed DVI output
Easy-to-operate and simple-to-understand screen configuration
Stress-free operation with quick responsiveness
Automatic measurement (interval measurement, comparator measurement, alarm, sequence measurement, sampling measurement)
Extended channel function for operation between channels and operation with function including rosette analysis
Functions of MAX (maximum value), MIN (minimum value) and IF (branching) are added
LAN, USB and RS-232C interfaces provided
Specifications

Type
TS-960
Number of measuring point
Using Measurement box
1000 points at maximum
(2000 points at maximum when temperature-integrated strain gauges are used)
Using both Measurement box and Built-in measurement unit
Using Built-in measurement unit
10 points  (up to 20 points when temperature-integrated strain gauges are used)
Measuring speed
High-speed mode  0.1 seconds
High-accuracy mode 0.4 seconds(50Hz) / 0.34 seconds(60Hz)
Measurement mode
Initial, Direct, Measure
(only Direct for temperature measurement)
Simple measure
Coefficient: 1.00, Unit: Depends on sensor mode, Decimal point: Depends on sensor mode
Compensation mode
Comet NON / Comet A / Comet B
Monitor
Number of setting table
5
Number of display frame
0 ~ 4 
Display mode
Value, MAX▪MIN
Chart (Y-T), Chart (X-Y), Chart (BAR)
Display channel
Value display, MAX▪MIN display, Chart display (Y-T), Chart display (X-Y), Chart display (BAR)
Measurement
Manual measurement
Start key (START button on touch screen)
Automatic measurement
Interval measurement, Comparator measurement, Alarm measurement,
Sampling measurement, Sequence measurement
Interface
LAN, USB, RS-232C
Sensor mode
Strain
Quarter bridge 3-wire 120 / 240 / 350 Ω
Half bridge, Half bridge common dummy, Full bridge, Full bridge high resolution mode, Full bridge constant current 350Ω, Full bridge constant current 350Ω high resolution mode, Full bridge 0-2V mode       
Temperature-integrated strain gauge 120 / 240 / 350 Ω
Temperature
Thermocouple T/ K/ J/ B/ S/ R/ E/ N
Pt-RTD  Pt100 3W
Voltage
640mV, 64V
Extended channel setting
Function
Operation with function and operation between channels
Number of channel
100 channels
Usable variable
Channel, Extended channel, Constant
Operation
Four arithmetic operations, General functions, Trigonometric functions, Functions for rosette analysis, Functions for multi-layer inclinometer,
Logical functions, Other function
Recording
Internal memory (4 Gbyte), SD card (specified by TML)
Interface
LAN, USB, RS-232C
External dimensions
328 (W) × 148 (H) × 200 (D) mm
Weight
Approx. 5 kg
Power supply
AC 100 ~ 240 V   50/60 Hz  70 VA Max.