Surge Absorber Terminal
Surge absorber terminal SAT
These are terminals with built-in gas tube arresters for connecting transducers and instruments. The gas tube arrestor is a surge absorbing element to protect the connected device from surge voltage in the cable which is caused by induced lightning. Since the terminals are equipped with DIN rails, they can easily be installed in an instrumentation box and increased. Connecting works can be done easily and efficiently.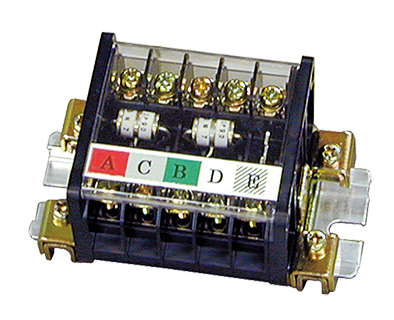 Features

Most suited to installation in an instrumentation box owing to its small size
Most suited to protection of TML-NET wirings from thunderbolts
Specifications

Type
SAT-5A
For 5 ch. 
SAT-4A
For 4 ch.
SAT-3A
For 3 ch.
SAT-2A
For 2 ch.
SAT-1A
For 1 ch.
SAT-1N
For
TML-NET

DC breakdown voltage (100V/s)

72 to 108 (V)
Impulse breakdown voltage (100V/μs)
450 V max.
Impulse discharge current 8/20μs
10 kA
AC discharge current (50Hz) 9 cycle
45 A
DC holdover voltage
50 V
Impulse life (10/1000μs 500A)
100 times
Insulation resistance
10000 (MΩ) min.
Capacitance
2.0pF max.