High Speed Switching Box
High Speed Switching Box IHW-50G
This is an A/D converter-integrated switching box offering high-speed, high-accuracy measurement and developed to allow expansion of measurement points combined with a data logger. It can measure 50 points in a high-speed 0.4 seconds. Several switching boxes in system and with parallel use of the integrated A/D converters allows strain measurement of 1,000 points in the same 0.4 seconds. High-speed digital communication by RS-422 insulated from the measuring unit or optical fiber makes it extremely resistant to noise. IHW-50G-01 (factory-installed option) allows measurement in high-speed mode (HSP) when connected to only a single TDS-630 high-speed, high-functionality data logger.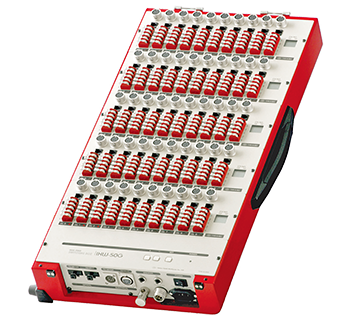 Features

TML 1-gauge 4-wire method with one-touch connection by modular plug
Electrically insulated from data logger
Measurement of strain, DC voltage, temperature with PtRTD and thermocouple
High resolution mode of 0.1 x 10-6 strain measurement incorporated
Scanning time is 0.04 second for one channel. It can measure 50 channels in 0.4 second.
The IHW-50G-05 is equipped with one-touch connector receptacles for all channels in addition to standard terminals.
With built-in surge absorber for lightning
Simultaneous measurements of strain and temperature in the same channel with temperature-integrated strain gauge
Specifications

Type
IHW-50G
Measuring object
Strain, DC voltage, Thermocouple, PtRTD
Number of measuring channels
50 channels
Scanning time
50 channels in 0.4 seconds
1000 channels in 0.4 seconds
Dimension
IHW-50G : 298(W) x 100(H) x 500(D) mm
IHW-50G-05 : 298(W) x 100(H) x 600(D) mm
Weight
IHW-50G : Approx. 8 kg
IHW-50G-05 : Approx. 8 kg (also serving as connector)
Power supply
AC85-250 V 50/60 Hz 104 VA MAX
DC10-16 V 0.8 A MAX
High Speed Switching Box IHW-50H (for TDS-630)
The IHW-50H is an exclusive switcing box for the high speed and high performance data logger TDS-630. In order to realize for high speed transfer of large capacity data between the data logger and switching box, the IHW-50H is compatible with the newly adopted high speed communication method TML-LINK. It is cascaded up to the maximum 20 units with the TDS-630 data logger and enables the maximum 1000 channel strain measurement in 0.1 seconds. The IHW-50H has 50 channels and can measure strain gauges, thermocouples, Pt RTD and DC voltage.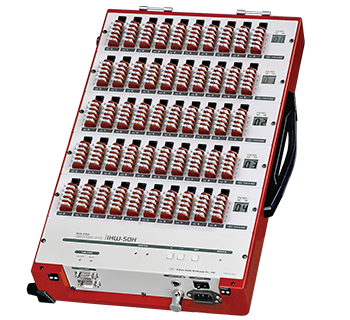 Features

Compatible with high speed communication method TML-LINK
Fastest measurement of 1000 channels in 0.1 sec. with Data Logger TDS-630
Measurement of strain, DC voltage, temperature with PtRTD and thermocouple
High resolution mode of 0.1 x 10-6 strain available
1-Gauge 4-Wire strain measurement compatible
Simultaneous measurement of strain and temperature with one channel
Onboard lightning surge arrester on each channel
New compensation methods of measuring strain provided
Specifications

Type
IHW-50H
Measuring object
Strain, DC voltage, thermocouple, PtRTD
Number of measuring channels
50 channels
Scanning time
50 channels in 0.1 seconds
1000 channels in 0.1 seconds
Dimension
IHW-50H : 298(W) x 100(H) x 500(D) mm
IHW-50H-05 : 298(W) x 100(H) x 600(D) mm
Weight
IHW-50H : Approx. 8 kg
IHW-50H-05 : Approx. 8 kg (connector type)
Power supply
AC100-240 V 50/60 Hz 68 VA MAX