Data Logger TS-963
model with 30 built-in channels T-ZACCS9 TS-963
T-ZACCS9 series model with 30 built-in channels
This is the top-of-the-line model of the high-speed, high-accuracy, high-functionality data logger T-ZACCS 9.
Capable of measuring in as fast as 0.1 sec.
Built-in 30 channels can be monitored and displayed without a PC, and our unique next-generation A/D method eliminates noise for highly accurate and stable measurement. Full range of monitor display functions.
In addition, a remote data logger function is now available to remotely control the data logger via a web browser.
Real-time computing function
The TS-963 is equipped with an extended calculation function that performs calculations in real time by substituting measured values into a calculation formula set arbitrarily by the user.
Calculations such as finding the maximum, minimum, and average values from multiple measurement data or converting them to other physical quantities by combining them with various functions can be performed in real time with a single measuring instrument.
Calculation results can be recorded and displayed in the same way as measurement data, and in combination with an analog output unit, can be output externally as a voltage corresponding to the calculation results.
Full range of monitor display functions
It has the ability to display measurement data values in real time and can display up to 60 measurement data points at a time.
It can also display changes in values as vectors (arrows).
Automatic measurement function for various measurements
It has an automatic measurement function that automatically initiates measurements based on conditions set by the user.
Five different functions are available to automatically perform measurements in accordance with the user's measurements.
In addition, interval measurement and comparator measurement each have 10 systems, which can be combined with other automatic measurement systems to operate in parallel.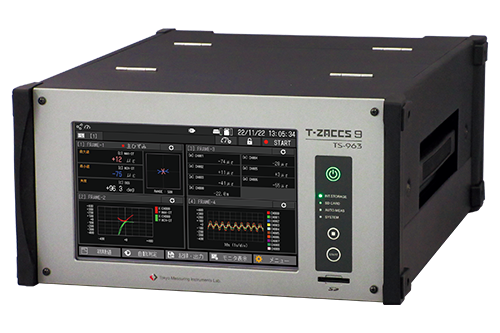 Features

Capable of measuring strain gauges, strain gauge transducers, thermocouples, platinum RTD (resistance
temperature detector), DC voltage, etc.
High-speed mode allows measurements every 0.1 sec. (High-speed mode allows measurements every 0.1 sec.)
Built-in measuring unit capable of monitoring and displaying all 30ch points Our unique next-generation A/D method eliminates noise and realizes highly accurate and stable measurement.
Measurement data can be recorded in 4GB internal memory, SD card is used as external recording media Equipped with 9-inch wide LCD touch panel
Comfortable operation with wide widescreen and user-friendly screen configuration
Remote data logger functionality enables operation from a web browser
Specifications

Type
TS-963
Number of measuring point
Using Measurement box
1000 points at maximum(2000 points at maximum when temperature-integrated strain gauges are used)
Using both Measurement
box and Built-in
measurement unit
Using Built-in measurement unit
30 points (possible up to 60 points when temperature-integrated strain gauges are used)
Data update rate
Measuring speed
Display and record measurements update cycle 0.1 sec.
High-accuracy mode (0.4 seconds(50Hz)/0.34 seconds(60Hz)
Measurement mode
Initials, Direct, Simple Measure(Temperature measurement is direct only)
Simple measure
Factor 1.00, Unit Linked to sensor mode, Decimal point Linked to sensor mode
Compensation mode
Comet NON/Comet A/Comet B
Monitor
Number of setting table
5
Number of display frame
0 to 4
Display mode
Value, MAX/MIN, Chart (Y-T), Chart (X-Y), Chart (BAR), Vector
Measurement
Manual measurement
Start key (START button on touch screen)
Automatic measurement
Interval measurement, Comparator measurement, Alarm measurement, Sampling measurement, Sequence measurement
Interface
LAN, USB, RS-232C
Sensor mode
Strain
Quarter bridge 3-wire 120 / 240 / 350 Ω, Half bridge common dummy
Half bridge, Full bridge, Full bridge constant current 350Ω
Full bridge high resolution mode, Full bridge 0-2V mode
Full bridge constant current 350Ω high resolution mode
Temperature-integrated strain gauge 120 / 240 / 350 Ω(only when using EI-01P)
Temperature
Thermocouple T, K, J, B, S, R, E, N
Pt-RTD Pt100 3W
Voltage
640mV, 64V
Channel setting
Function
Operation with function and operation between channels
Number of channel
100 channels
Usable variable
Channel, Extended channel, Constant
Operation
Four arithmetic operations/General functions/Trigonometric functions/Functions for
rosette analysis/Functions for multi-layer inclinometer/Logical functions/Other function
Recording
Internal memory(4Gbyte), SD card(specified by TML)
Interface
LAN, USB, RS-232C
External dimensions
328(W)×174(H)×424(D) mm
Weight
Approx. 10 kg
Power supply
AC100 to 240V 50/60Hz 70VA MAX