Ultracompact Compression Load Cell
CLS-NA/CLS-NB Compression Load Cell 2N to 10kN
The CLS-NA and CLS-NB Load Cells are ultracompact load cells with capacities ranging from 2N to 10kN. They are widely used for measuring load distribution or loads in structural mock-up testing and as a sensor for industrial machinery.
CE marking. : CLS-NB
Protection ratings
: IP 53 equivalent / IP 41 equivalent(CLS-2NA , CLS-5NA)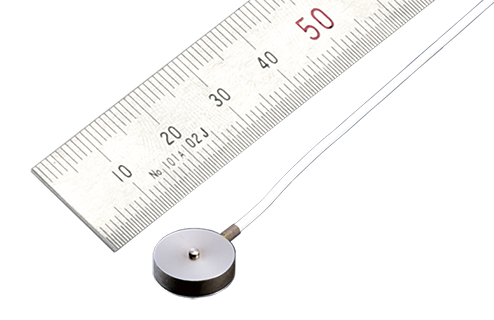 Features

Smallest ø12 mm, lightest 1 g
Miniature, High accuracy, High sensitivity
Easy handling
Ideal sensor for model testing
Specifications

Type
Capacity
Rated output
Non-linearity
Temperature
range
CLS-2NA
2N
1mV/V
(2000x10-6 strain)±30%
1%RO
-10 to +60℃
CLS-5NA
5N
CLS-10NA
10N
1mV/V
(2000x10-6 strain)±20%
0.5%RO
CLS-20NA
20N
CLS-50NA
50N
CLS-100NA
100N
CLS-200NB
200N
1.5mV/V
(3000x10-6 strain)±10%
CLS-500NB
500N
CLS-1KNB
1kN
CLS-2KNB
2kN
CLS-5KNB
5kN
CLS-10KNB
10kN

Output polarity

Measurement moves in the minus direction with regard to increased compressing force.