Strain Gauge Clamping Jig
PRESSING JIG - PRESSEE PM-19
When adhering a strain gauge to a specimen, it is necessary to press the strain gauge until the adhesive hardens. PRESSEE not only applies pressure (PRESS) on the strain gauge, but is also a pressing jig allowing a strain gauge to be checked visually (SEE) from the clear pressing portion. Using PRESSEE saves time in having to keep pressing with the fingers, and a constant pressure on a strain gauge allows stable adhesion quality. The position of the strain gauge, flow of the adhesive, and other aspects can also be checked visually while pressure is applied.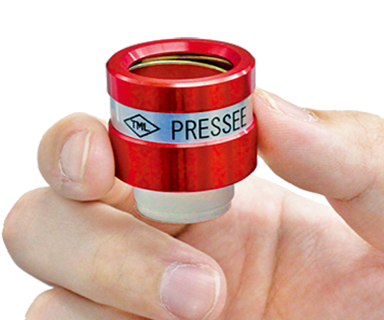 Features

Magnetic method stabilizes the pressing force and adhesion quality

As the pressing part is clear, you can check the bonding status with your eyes

Spring mechanism enables easy attachment and removal with weak force

Work efficiency is improved because other work can be carried out during pressing
Specifications

| | |
| --- | --- |
| Type | PM-19 (PRESSEE) |
| Applicable gauge | Gauge length 6 mm or less (backing within ø15 mm) |
| Pressing method | Magnetic method by permanent magnet |
| Object to be bonded | Flat surface of magnetic body (such as steel plate with thickness of 1mm or more) |
| Shape of pressing surface | Φ19 mm (adhesive clear cushion material) |
| Release film | Polyethylene sheet (suplied to the strain gauge or optional) |
| Operating temperature range | +5 to +50℃ (within curing temperature of used adhesive) |
| External dimensions | Φ29xApprox. 30 mm * |
| Weight | Approx. 30 g |

* It shrinks by pressure because of spring mechanism.
STRAIN GAUGE CLAMP - GAUGE MATE GMA-S / GMR-S
When adhering a strain gauge, it is necessary to press the gauge until the adhesive hardens. Gauge Mate is a jig that uses a coil spring and a permanent magnet to maintain application of pressure. Use with room-temperature-hardening adhesive.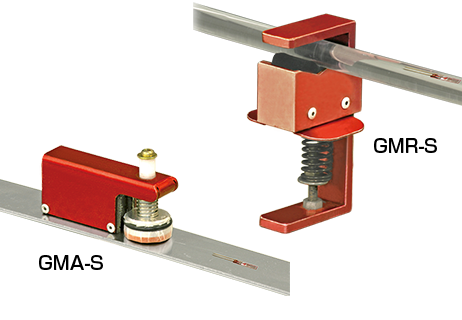 Specifications

| Type | Application |
| --- | --- |
| Gauge Mate GMA-S | Flat specimen use(1 mm thick or over) |
| Gauge Mate GMR-S | Round specimen use (Φ5~Φ32mm) |