Dynamic Strainmeters Optional Accessory
Bridge Boxes
The bridge boxes are used for connecting strain gauges in several bridge methods including quarter bridge and half bridge. Fixed resistors for configuring a Wheat stone bridge circuit are inside of the bridge box. For strain gauge based transducers of full bridge configuration, if the transducer is without connector plug on its cable end, it is connected to a dynamic strainmeter using a bridge box by connecting cable wires to the bridge box terminals. The bridge method is determined by the way of connection to the terminals or by the setting of switches depending on the type of bridge box.
Carrying Case / Mounting Rack
The carrying case/mounting rack is used for housing DA/DC series dynamic strainmeters to configure a multi-channel measurement system. The case/rack has a power switch, calibration switch and balancing button for operating all channels at the same time.
Thermocouple adaptor TA-01KT
This adaptor is intended for temperature measurement by T or K type thermocouple using a DC exciting strainmeter. No external power source is required because the adaptor uses bridge excitation supplied from the strainmeter. It is small-sized and can be directly connected to the connector of a strainmeter, thus saving space for installation.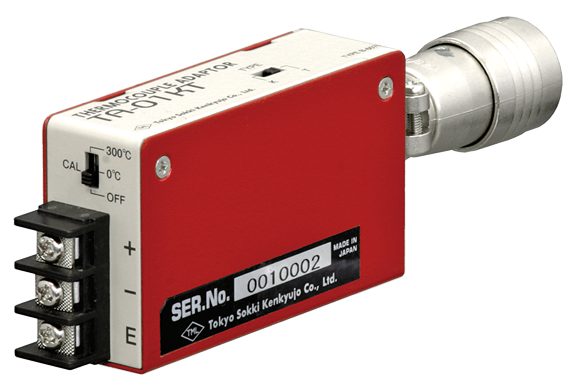 Features

Small and light weight
External power source is not required
Built-in reference junction compensation
Isolation between input and output
Digital linearization offers excellent linearity
Burnout detection function provided
Calibration output for confirmation of strainmeter setting
Specifications

Type
TA-01KT
Number of measurment point
1
Applicable thermocouple
K, T
Measuring range
K : -50 to +1000 ℃
T : -50 to +300 ℃
Response time
20 msec or less (0 to 90 %)
Measuring apparatus that applies
DC exciting dynamic strainmeter
DC-004P
DH-14A
DC-204R/-204Ra
DC-96A/-97A
TMR-300/-200series
Dimensions
22(W) x 41(H) x 70(D) mm (excluding projecting parts)
Weight
Approx. 100 g
Power supply
DC 1.95-5.3 V (constant voltage)